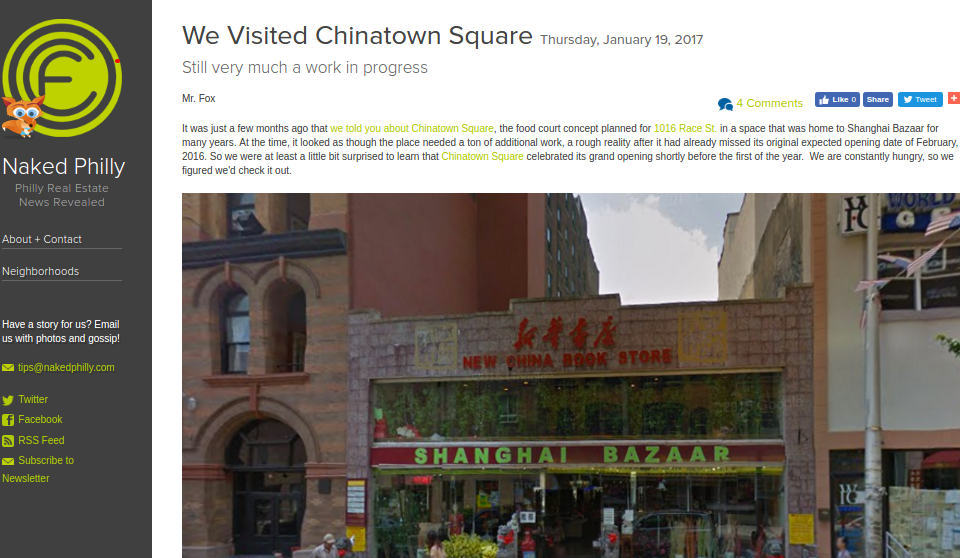 We Visited Chinatown Square
19 Jan, 2017
It was just a few months ago that we told you about Chinatown Square, the food court concept planned for 1016 Race St. in a space that was home to Shanghai Bazaar for many years. At the time, it looked as though the place needed a ton of additional work, a rough reality after it had already missed its original expected opening date of February, 2016. So we were at least a little bit surprised to learn that Chinatown Square celebrated its grand opening shortly before the first of the year. We are constantly hungry, so we figured we'd check it out.
In the past
Chinatown Square
From the front, you can see that New York franchise the Halal Guys, along with fellow NY import I-CE-NY are the tenants closest to the street. Not in the mood for a gyro or rolled ice cream, we tried to go inside to see about some of the other tenants. And then we realized that you can't actually walk into the middle door leading to the food court, you can only enter the restaurants on either side and then enter the small food court internally. And oh by the way, there are no other tenants just yet. Fortunately, the interior space looks pretty good so far. Unfortunately, we didn't get lunch at Chinatown Square. Fortunately, Nan Zhou Hand Drawn Noodle is located just a few doors away so we didn't starve.
Halal Guys
I-CE-NY
Looking toward Race Street
More restaurants to come behind that plywood...
According to a recent story from Michael Klein, Chinatown Square will have even more variety than we first expected. Previously, we had heard that the food court would house eight restaurants, but demand must be high because the number has swelled to fourteen. Concepts include a Cambodian barbeque, a curry restaurant, poke (specialty raw fish), Chinese steam buns, karaoke, and a couple of drinking options as well.
A soft opening is planned for January 28th, at which point we have to imagine that at least a few more of the restaurants will be opening their doors. We'll be sure to zip over there next month and give you a full (bellied) report.
Read more at http://www.ocfrealty.com/naked-philly/chinatown/we-visited-chinatown-square