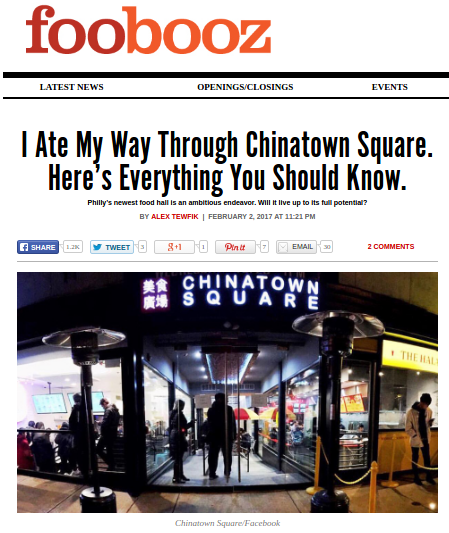 I Ate My Way Through Chinatown Square. Here's Everything You Should Know
19 Jan, 2017
Chinatown is perfect the way it is, a shining example of a neighborhood fully bloomed, firing on all cylinders, brimming with energy and excitment. And its ever-changing foodscape rarely ceases to impress, attracting locals and tourists alike with the cunning use of bright neon, hanging ducks, and cartoon soup dumplings.
So when a two-story epic food hall called Chinatown Square soft-opens smack in the middle of it all, with a new roster of food purveyors doling everything from Middle Eastern shawarma to Cambodian meat sticks, you wonder what sort of affect it might have on the rest of the 'hood. I wondered, and I wondered and I wondered and I wondered, until, finally, last night, I went. And I ate.
First, let's get something straight: Chinatown Square was originally billed as a 24-hour food hall. Currently, that's not the case (though it is open late). David Taing, the young co-owner behind this behemoth operation, promises that, once the dust settles, Chinatown Square's downstairs will never close, and I'll hold him to that. Philly needs more late-late-night food options.
Right now, there are eight operating food vendors starting with Halal Guys up front. Back in December, the gyro specialist out of New York opened its first Philly location in Chinatown of all places — shawarma platters and falafel sandwiches are ready for you on weekdays till 2 a.m. and weekends until 4 a.m. Directly across from it is the second U.S. location of "original" Thai rolled ice cream shop I•CE•NY.
SPONSORED CONTENT
Suggested: How Healthy Is Your Heart? Q&A With Jefferson's Top Docs
And then the real fun starts: Taing, a Cambodian-Chinese immigrant himself, wheedled a hawker from FDR Park's weekend Cambodian street market into setting up shop in the Square under the name Khmer Grill. There I ate what ended up becoming my favorite meal of the night: a marinated chicken wing, beef stick, and snappy Cambodian sausage — all three skewered and grilled deep and dark.
I indulged in some fish-on-rice, too, by Philly's newest poke addition Philly Poke, serving 2016's food-trend-of-the-year via bowls, burritos, and rolls customized to your liking.
Kurry Korner's got a bunch of — you guessed it — curry. They're full meals, too, also built into bowls, rice included. My suggestion? The pork katsu, a shatteringly crispy fried cutlet over vegetables in a Japanese curry. And Bao Bar was where I ate a steamed bun stuffed with tender-as-ever bò lúc lắc ("shaking beef") — one of the finest renditions of the Vietnamese staple dish in town.
Bao Bar's bò lúc lắc bao
Coreanos marries Mexican and Korean flavors, so there's a real-deal al pastor spit spinning away next to a kitchen staff building bulgogi and kimchi into small tortillas. I opted for both and walked away two-for-two. Across from it, Hi Kori — Japanese for "fire and ice" — serves tea-based cocktails and kushiyaki (more meat sticks!). An oyster bar will be added in the coming weeks.
Upstairs, which isn't ready for the public yet, is where things get a little funky.
The second-floor mezzanine is made up almost entirely of karaoke rooms, each sponsored by a different liquor/drink brand. There's a large Johnny Walker Lounge towards the back, plus a handful of smaller rooms individually designed to fit their sponsor's aesthetic. So the Red Bull room has red furniture, the Moët & Chandon Champagne room's got bubbly walls, etc. The upper-level's most compelling addition, however, will be a full-scale Korean restaurant, Dae Bak, opening in a couple of weeks along the building's top deck overlooking Race Street.
Taing and his partner Kenny Poon are still quite a ways from opening the second floor to the masses — he estimates at least three more weeks — but that's no matter, downstairs is up and running just fine. Yeah, you can tell everybody's still finding their sea legs, but all in all, it's a good start. If you're wondering if a mega-chain like Halal Guys could alter the Chinatown landscape, so am I. But with homegrown options like Khmer Grill, Kurry Korner, and, soon enough, Dae Bak in the mix, plus 24-hour access, Chinatown Square is poised to be Philly's next great food destination, Red Bull room and all.
Read more at http://www.phillymag.com/foobooz/2017/02/02/chinatown-square-open-philly/#dcUL8KYPTzXL29Kw.99